We are teaming up with Shropshire car dealership, Greenhous, to hit the road on our own "Grand Tour" to show the potential of the electric car.
Daniel West, Greenways' business development executive, will be leaving the office behind (only for a few days, mind!) after being given the opportunity to road test an electric car and compare it to the more conventional petrol vehicles.
Greenhous of Shrewsbury is supplying the car and Daniel is hoping the experience will prove invaluable in helping him in turn advise his customers looking for insurance for electric vehicles.
He will be using the car, a Nissan Leaf, for a total of seven days and by the end of it will fully understand how the electric car meets the needs of the customer, whether in a rural or city setting.
"Electric cars do take some getting used to," he says. "We are so used to driving a normal car and an electric one is quite different.
"Jeremy Clarkson and the rest of the former Top Gear presenters are undertaking their Grand Tour at the moment. You might say this is my 'Grand Tour' and I'm aiming to show the advantages and benefits of owning and driving an electric car.
"I will be taking it on a series of typical journeys – local, around town, as well as a long journey to Blackpool to show that you can make such journeys in this type of vehicle.
"Greenways Insurance Consultants was recently set up and we are one of only a few companies in the UK, and the only one in Shropshire, to offer bespoke insurance services for electric cars.
"We believe there is a big future for the electric car and by doing this Grand Tour hope to demonstrate the advantages."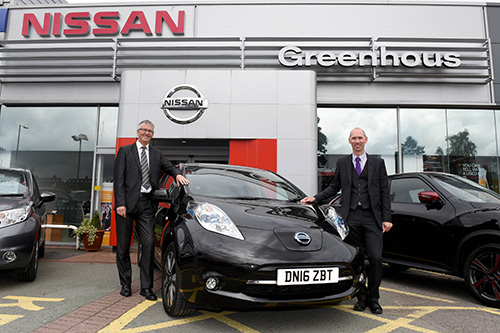 Greenways Insurance Consultants was set up following a significant rise in the popularity of electric/plug-in hybrid (PHEV) cars in recent years, with more than 80,000 vehicles now on the road compared with just 3,500 in 2013.
Shrewsbury Greenhous Nissan sales manager, James Biggs, says it is important for people to understand the benefits and capabilities of electric motoring.
He says: "There is no engine in the traditional sense, no gearbox and no clutch on these cars.
"It is totally different to drive – that is why we offer anyone who is thinking about buying an electric car from us the chance of a five-day test drive.
"All the big manufacturers are coming on board with the electric cars now and the public are looking for information on how they operate, how easy they are to drive and the benefits of ownership.
"They are cheaper to run, you don't need petrol, but people have concerns over the range and ask about the charging options.
"Hopefully, Daniel's week on the road will help answer these questions for people and demonstrate that electric motoring is a viable alternative."
To keep up to date with Daniel's 'Grand Tour', follow @greenwaysinsure on Twitter and Facebook and see the regular blogs here on the website.
For more information about Greenhous Nissan, visit the website at www.greenhousnissan.co.uk
Call our team:
01952 822 919