From 8th April 2019, Central London will be introducing an Ultra-Low Emission Zone (ULEZ) to tackle the problem of excessive air pollution in the city. Once this has been initiated, there are further plans to extend this to include the inner London area bounded by the North and South Circular Roads. This will come into place from 25th October 2021. Unlike the 7am-6pm weekday C-charge, the ULEZ restrictions will be in force all day, every day with no exceptions.
Why has it been enforced?
The ULEZ has come into place in order to tackle the rising air pollution in the city. The average Londoner's life is said to be reduced by around 17 months due to the current levels of pollution which equates to around 9,400 early deaths each year. As road transport is the main contributor for these emissions, the new zone aims to reduce the traffic flow by encouraging alternative transport such as cycling and public transport, as well as improving the standard of vehicles which do pass through.
What does it mean?
If your vehicle does not meet the standards set by ULEZ, you will be charged a fee. If you fail to pay the charge you will then face a much larger penalty fine. For cars which don't meet the restrictions, the daily fine is £12.50. For large vehicles like lorries and HGVs, the daily charge is a staggering £100, with a £1000 penalty if you fail to pay.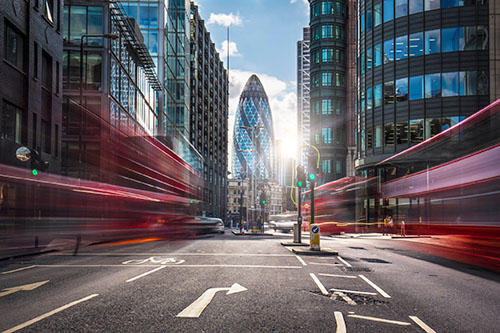 How do you meet the standards?
The emission standards that your vehicles need to meet to avoid a charge are published here. Most large vehicles including breakdown vehicles, lorries, buses and refuse collection vehicles will be required to meet Euro VI standards, which generally apply to those registered with the DVLA after 2014. Petrol cars will need to meet Euro 4 standards, whilst diesel cars will need to comply with Euro 6 standards.
Avoiding the charge
If your vehicle fleet currently does not meet the standards set by ULEZ and you are required to travel through London, it's a smart move to upgrade your vehicles before you get hit by these daily fines. Stuart Thomas, director of fleet and SME services at the Automobile Association, states "the best way businesses can avoid picking up any charges and safeguard themselves against forthcoming environmental fees is to implement a long-term fleet strategy, such as a switchover to alternative fuels."
What about your insurance?
If you are looking to make major changes to your vehicle fleet, you will also need to make changes to your insurance. At Greenways, we can arrange a fleet insurance policy which covers all of your upgraded vehicles under one simple policy. We'll ensure that you cover reflects the change in vehicles and accommodates for the longer-term strategy your business is looking to implement. Just contact one of our team on 01952 822 919.
Call our team:
01952 822 919